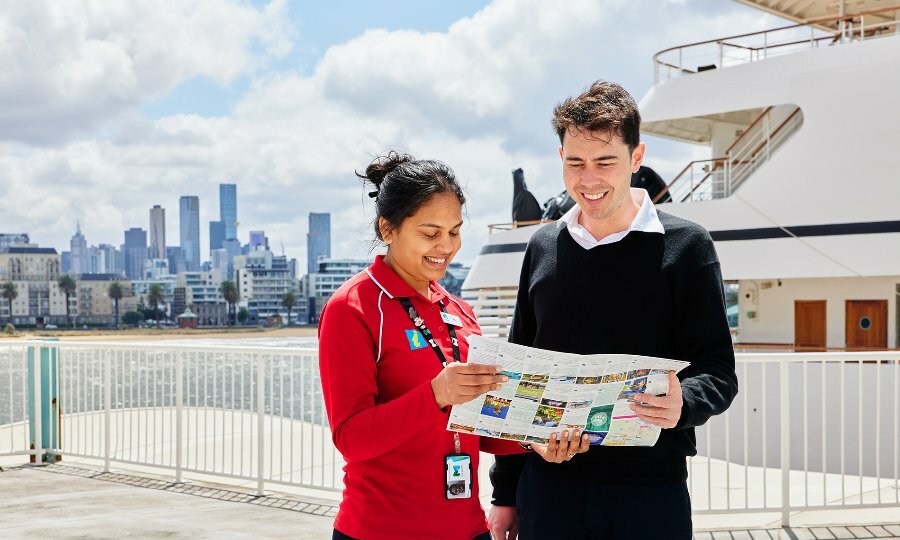 Here's a selection of useful information to make your visit to Melbourne as easy and enjoyable as possible, from wi-fi access to public holidays and how to get to the city from the airport.
Airport connections
Melbourne Airport is about 22 kilometres from the central business district. There are no train or tram links but taxis and rideshare are available in addition to the Skybus which runs between the airport and Southern Cross Station.
Skybus departs every 15 minutes between 4am and 1am and the journey takes about 35 minutes. Visit Skybus for tickets and pricing.
Taxi fares between the city and the airport are about $60.
Cruise ship arrivals
Cruise ships arrive at Port Melbourne's Station Pier, 4 kilometres from the city centre. The easiest way to get from Station Pier to the city centre is by the Route 109 (Box Hill) tram, located at the end of the pier.
In order to travel on the tram you'll need a myki card, which can be purchased inside the international terminal.
Trams normally run 5am to midnight, Monday to Thursday, with extended hours on Friday and Saturday nights. For timetables, visit Public Transport Victoria.
A visitor information desk is located at Station Pier throughout the cruise ship season, from October to June each year.
Access and inclusion
Melbourne is a proudly accessible city. Most of its attractions can be enjoyed by everyone. Find out about the great range of accessible and inclusive experiences to enjoy in Melbourne, including dining, shopping, local attractions and more.
Access and mobility maps are available with details of accessible amenities and facilities throughout the city.
Travellers Aid provides hire of manual wheelchairs and motorised scooters from service centres at both Flinders Street and Southern Cross stations. Booked directly through Travellers Aid or call 03 9068 8187. Recharge points are also available for electric scooters and wheelchairs.
Wheelchair-accessible car rental is available from Europcar and Wheelaway.
Find out more about getting around Melbourne.
Hidden Disabilities Sunflower Symbol
The sunflower symbol discreetly signifies that you may need extra assistance or considerations. You can pick up a free hidden disabilities sunflower product at our visitor centres. Alternatively you can collect products for a small fee from Traveller's Aid centres at Flinders Street and Southern Cross stations.
When attending City of Melbourne events, look out for staff wearing the sunflower symbol. They have undertaken training about hidden disability and can offer assistance, support and understanding to help everyone enjoy the city. 
Changing Places
There are a number of Changing Places facilities across the City of Melbourne. Changing Places toilets are different to standard accessible toilets. They have extra features and more space to meet the needs of people with severe and profound disabilities, and their attendants.
Plan your visit to Melbourne with the Changing Places map. It outlines locations, opening hours, and other details.
You can find more information on accessibility on the Accessing Melbourne webpage.
Wi-fi and Internet access
Free wi-fi is available across the central city. Simply look up available networks on your device, select 'VicFreeWiFi' and accept the terms and conditions.
You can use 1GB per device per day, you don't need to login and there's no pop-up advertising. For more information including a map of public wi-fi access points across the city, visit VicFreeWiFi.
Free wi-fi is also offered by many cafes, the State Library, Federation Square and our visitor centres.
Telephone
Local calls from public telephones in Australia cost 50 cents, regardless of the time spent on the call. Calls to interstate, international and mobile numbers are charged by time.
Most public telephones accept coins and pre-paid phone cards, which can be purchased in post offices, newsagents and gift shops. They can be used for local, interstate and international calls.
All payphones allow you to call emergency services (000) without payment.
Important numbers
Directory assistance 1223

Emergency services 000

Reverse-charge calls 12550
International calls
To call another country while in Australia, dial the international access code 0011 and then the country code (Japan's, for example, is 81), followed by the relevant area code and the local number.
For international directory assistance, call 1225.
Banks and currency exchange
Banks are open Monday to Thursday from 9.30am to 4pm, and Friday, 9.30am to 5pm, although some branches in the central city are open longer hours.
Automatic teller machines (ATMs) are found throughout the city, and give cash advances on credit cards. Foreign currency and travellers' cheques can be exchanged at banks or dedicated exchanges such as Thomas Cook, American Express, Travelex and the Change Group.
Post
The city's main post office is located at the corner of Elizabeth and Lonsdale streets. It is open weekdays 8.30am to 5.30pm and closed on weekends. For more post office locations visit Australia Post.
Public holidays
See Visit Victoria for a list of public holidays in Victoria.
Shopping hours
In the city centre, shops are generally open Monday to Saturday, 10am to 6pm, extending to 9pm on Fridays. On Sunday, many city retailers are open 10am to 5pm. Find out more about late-night shopping hours in the Melbourne CBD.
Photography
Many photographic stores are located along Elizabeth Street between Little Bourke and Lonsdale streets. You can have your camera repaired, buy new memory cards and have images processed along this strip.
Tipping
Tipping is not a custom in Australia and is not expected. If you receive good service, however, you may choose to tip at cafes or restaurants - 10 per cent of the bill would be reasonable. In taxis, you may also choose to round up the payment according to service received.
Tickets for theatre shows
Halftix sells cheap tickets for live shows, events and tours. Tickets must be purchased in person but you can check today's offers online.
Other ticket agencies include Ticketek and Ticketmaster.
Laundry
Melbourne City Dry Cleaners has a self-service laundry and dry cleaning operation at 244 Russell Street, and is open Monday to Friday 7am to 6.30pm, and Saturday 9am to 6.30pm (closed Sunday).
There are other self-service laundries in inner suburbs such as Carlton and North Melbourne. In East Melbourne, you will find Bayside Dry Cleaners at 140 Wellington Parade. Open Monday to Friday, 9am to 6pm, and Saturday 9am to noon.