The ultimate guide to exploring Fitzroy Gardens
With towering trees, vintage cottages and lots of green, open space, Fitzroy Gardens is loved by visitors and locals alike. Here are some highlights to explore on your next visit.
Visitor centre
Fitzroy Gardens Visitor Centre provides information about Melbourne, including this beautiful heritage-listed park. It's also home to the petite KereKere Green cafe – known for great coffee, Portuguese tarts and free WiFi.
The Conservatory
After more than two years of closures, this glorious garden escape has returned better than ever. Five different seasonal displays will take over The Conservatory during 2022, with a gorgeous tropical array currently greeting visitors. Plan another visit in July for the upcoming Cineraria display.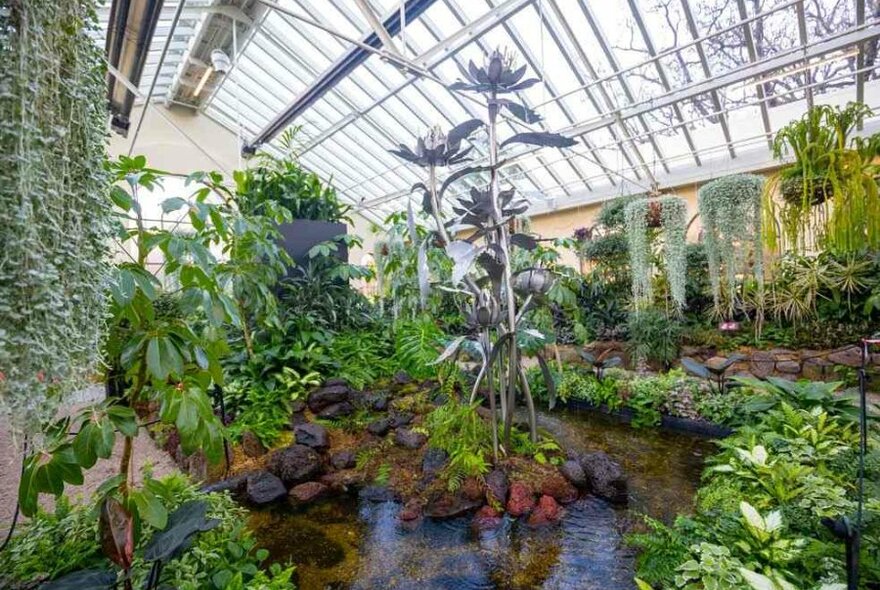 Scarred Tree
This is an important reminder that the Wurundjeri people have lived on this land for thousands of years. You can see where bark was removed from this river red gum tree long ago. It was a common practice, as bark was used to make practical items like canoes and shields. The long-dead Fitzroy Gardens' Scarred Tree collapsed in the 1980s, but the stump has been carefully preserved.
Elm tree avenues
Mature English elms line the gardens' main paths, creating long, cathedral-like avenues. These tall, spreading trees create a golden yellow blaze during autumn, and a welcome cool green canopy in summer. The 20-25 metre giants among these elms date back to the 1860s. A recent restoration project saw some old-timers replaced with juvenile trees.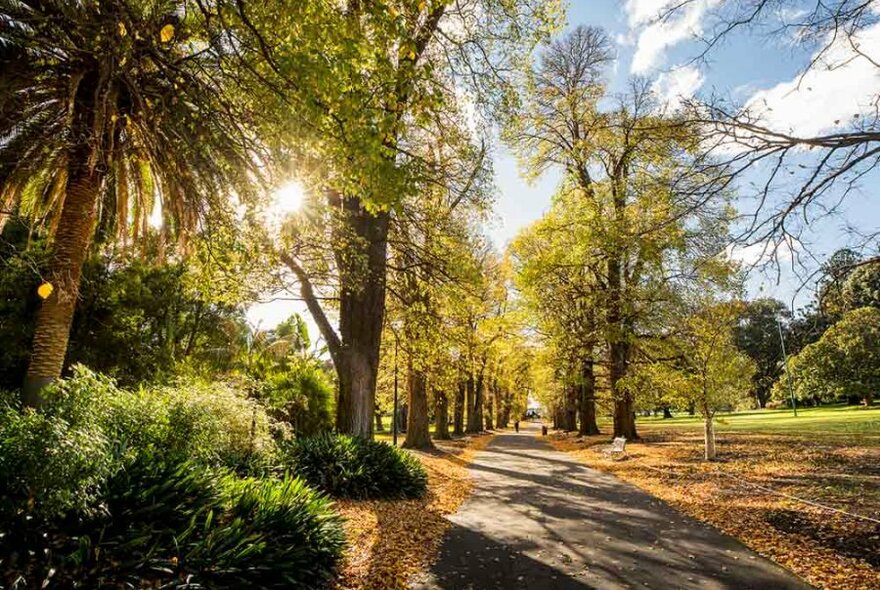 Hotham Walk
The main east-west path offers a lovely snapshot of the gardens. East of the central bridge, Hotham Walk is bordered by colourful flowers and picturesquely framed by cedars. Head west, then walk through the smaller Treasury Gardens, and you will find yourself a world away in the CBD.
Fairies' Tree
Artist Ola Cohn transformed an old red gum into the Fairies' Tree during the 1930s. Following its natural curves, she carved Australian animals, birds and bush spirits into the trunk. Cohn described her creation, beloved by generations of children, as a fairy sanctuary.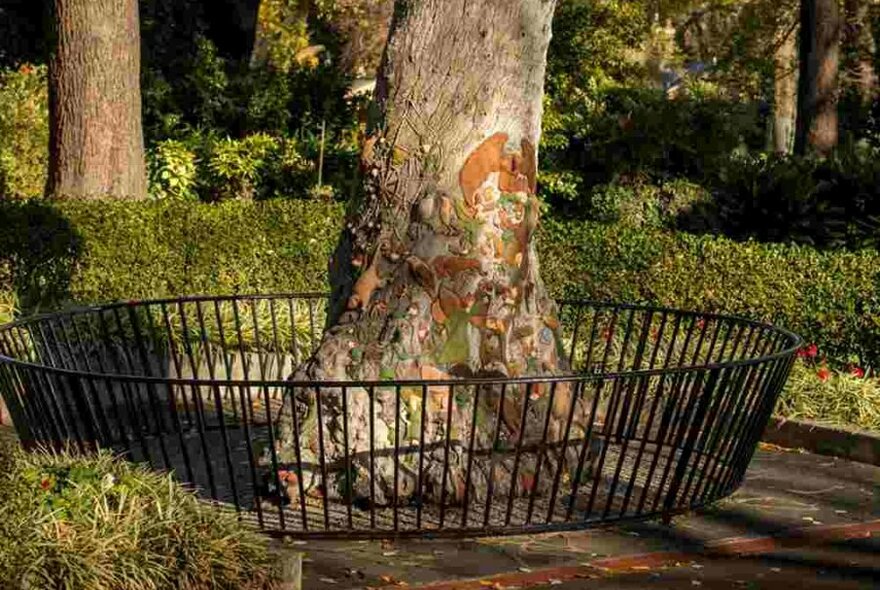 The old band pavilion
Reminiscent of a classical Greek temple, this square bandstand was built in the 1860s. Originally used by military bands and for performances of religious music, it's now popular for weddings. Sneak a little kiss with your beloved here, and see if Cupid brings you back for a very special occasion!
Stream and fern gully
Don't miss the secluded little stream running through the park's southern section. It's surrounded by a semi-wilderness featuring ferns and rainforest plantings, and forms an ornamental pond. Starting near the visitor centre, the stream and fern gully path is especially pleasant during hot weather.
Model Tudor Village
Another unlikely gardens highlight from merry old England, the model village is also a favourite with young visitors. It was given to Melbourne in 1947, in appreciation for the food parcels sent to Britain during World War II. This idyllic Tudor scene in miniature includes everything from a church and school to Shakespeare's home. Please don't enter the enclosure as the models are very fragile.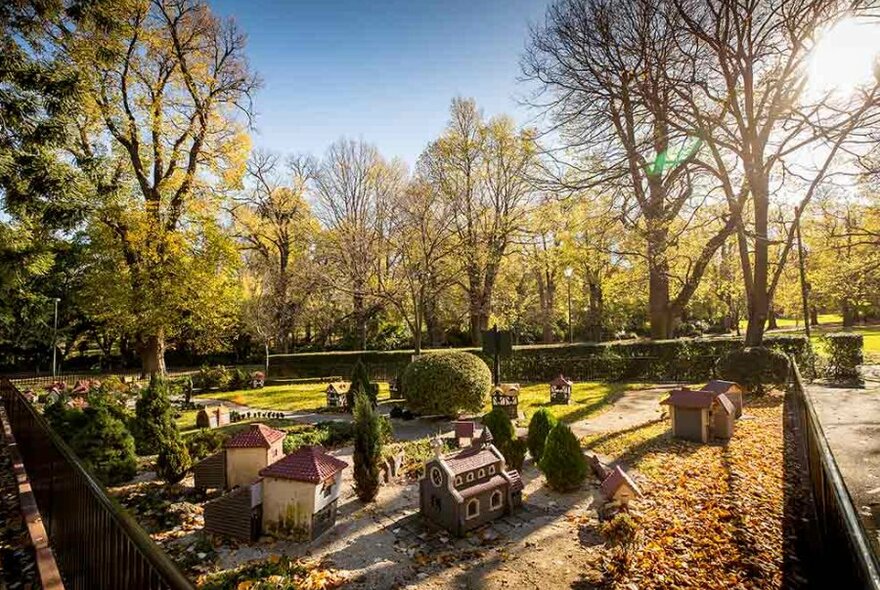 The Rotunda
Officially known as the Temple of the Winds, this rotunda was erected in 1873. It's a fine example of the sculptural and architectural elements popular in 19th century gardens. To this day, the tall rotunda is a good gardens meeting spot, and a handy shelter from sun or rain.
River God Fountain
Did you know Melbourne's oldest surviving public artwork is in the Fitzroy Gardens? Originally unveiled in the south-east corner in 1862, this fountain was created by leading sculptor of the day, Charles Summers. Topped by a bearded river god carrying a giant clam shell, it was put in storage in 1960. Nearly 40 years later, the restored fountain returned in all its watery glory at the gardens' northern edge.
Cooks' Cottage
Step back in time at Cooks' Cottage, built in 1755 by the parents of Captain James Cook. Originally located in Yorkshire, England, it was brought to Melbourne in 1934 and rebuilt brick-by-brick. Consider taking a 30 minute guided tour of this little oddity, including the cottage garden. Cooks' Cottage tickets are available at the visitor centre.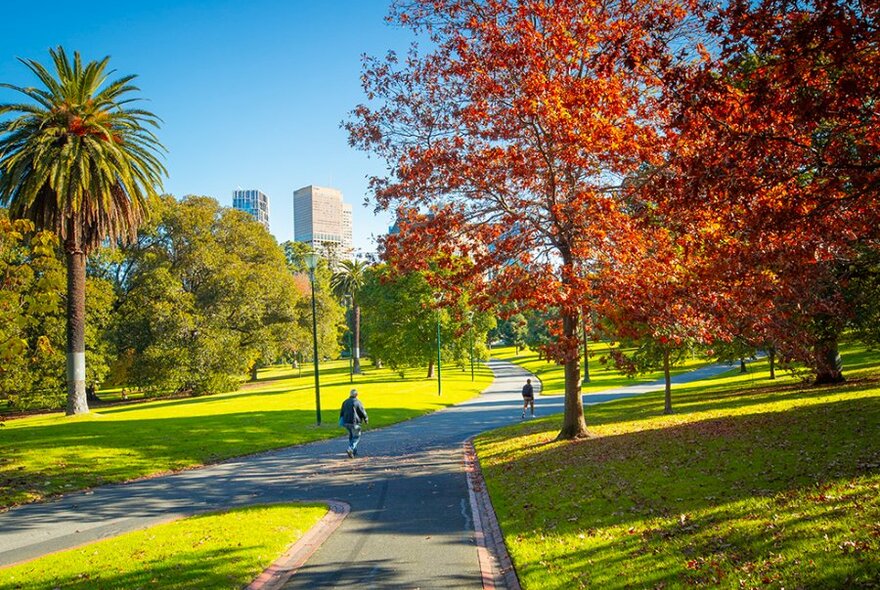 Accessibility
Fitzroy Gardens has wide, smooth pathways that are wheelchair friendly. There are accessible toilets within the gardens and accessible parking spots are available close to the entrances. For more information or to discuss your access needs, contact the Fitzroy Gardens Visitor Centre.
Last updated on Mon 1 Aug 2022